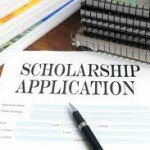 The Hope Scholarship Application procedure is easy and straightforward to follow; however, you must meet the deadlines and the requirements.
Georgia Hope Scholarship Application
First, you have to be accepted at a Georgia College or University that is eligible for the Hope Scholarship Award.
Next, you have 3 options for the Hope Scholarship Application:
Complete the FAFSA (Free Application for Federal Student Aid). Note, if you are not seeking financial aid from other sources, you don't have to complete the FAFSA for the Georgia Hope Scholarship Application. You can proceed to the next two steps.
Complete the electronic application for Hope Scholarship at GACollege411.org
Complete a paper application.
Deadline for Hope Scholarship Application
You have until the last day of exams or classes for the semester or quarter that you would like to receive funds. Of course, if you wait until you are already in college and are well into the semester, you will have to pay your tuition and then get reimbursed by Hope; therefore, we recommend submitting your HOPE application as early as possible. The earlier you apply, the earlier the funds are disbursed to your school and credited to your account.
If You Need Help with Your Georgia Hope Scholarship Application
Contact the University's financial aid office at the school you plan to attend. Talk with your high school guidance counselor. Contact the Georgia Student Finance Commission (GSFC).
Tennessee Hope Scholarship Application
Tennessee requires that you complete the FAFSA as part of the Tennessee Hope Scholarship Application. The deadline is Sept 1st for Fall Semester and Feb 1st for Spring and Summer Semesters. Again, early application is recommended.
South Carolina Hope Scholarship Application
There is no formal application for the South Carolina Hope Scholarship. Based on the final high school transcript, the college or university will notify the student with respect to eligibility; however, be proactive! If you believe that you are eligible and have not received confirmation from the university, contact the university's financial aid office to check on your status.