Well, the final word on tuition rates for 2012-2013 is now written in stone. This was discussed in a previous post; however, the official amounts were not known at the time. The increases are mainly in tuition with hidden increases included in the "special mandatory fee" and an increase in other fees as described in the post. Georgia Hope Scholarship funds, as you know, only include a percentage of tuition based on tuition rates of the 2010-2011 school year. So, the increases will solely be paid for by students and parents with no additional help from the Georgia Hope Scholarship. Here is the description of the fee increases taken from various news sources.
Undergraduate tuition will rise 2.5 percent at all schools, except for three research institutions which will see a bigger jump. At Georgia State University, the increase will be 3.5 percent, at the University of Georgia, 5 percent and at Georgia Tech, 6 percent. Note, the inflation rate was approximately 2% so tuition is increasing once again higher than inflation. In fact the increase is anywhere from 75% to 200% compared to the estimated inflation rate.
The board also extended for another year a "special mandatory fee" that was originally to have lasted only one year to tide the state's 35 public colleges and universities over during cuts in the state budget following the recent recession. It began in 2009 and was to expire in June. The fee generates $120 million a year, according to John Brown, vice chancellor for fiscal affairs. "We are not at a point where we want to put the special institution fee in policy for good," he said. "We hope there will be a day when we can roll that back. … If we sunset the special institution fee at this point, that would put the system in a bad way." Translation: This fee is not going away, so get used to it.
The final tuition rates by semester are listed for a representative listing of schools in the University System of Georgia.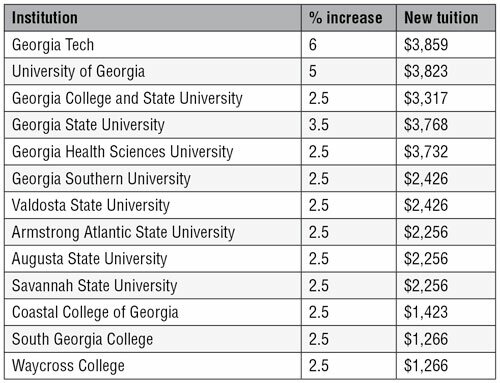 It is interesting to note that there are no apologies for the increasing tuition rates. In fact the explanation is "interesting":
University System officials have also noted often that tuition at Georgia's public schools is lower than the state schools in neighboring states. They say Georgia students and parents get a bargain and tuition should reflect the prestige Georgia institutions deserve.
"They need to be more in the arena of their peer institutions," Brown said.
Thank you, Mr Brown. Let's not look for how to do better. Let's look for how to spend as much as our peers. Hopefully, our business and economics majors are learning better council.